---
Clothing Drive
St. Stanislaus Parish will be hosting a clothing drive to benefit The Society of St. Vincent DePaul, Saturday, March 24th from 9:00 am to 1:00 pm. The Society of St. Vincent DePaul will be using the services of GreenDrop to support their clothing drive. Look for the GreenDrop truck i the parish parking lot where an attendant will be available to assist you with your donations. Please place your donations of usable men's women's, and children's clothing in plastic bags or boxes.  Household items such as: kitchenware, games/toys, small appliances under 50 pounds, electronics, sporting goods, books, CDs & videos are also accepted. Unfortunately, furniture, large appliances, TVs or computer monitors cannot be accepted. For a full list of acceptable items visit www.greendrop.com.
---
This Catholic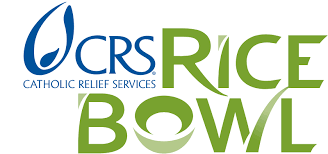 Relief Services' Lenten faith-in-action program offers the opportunity for us as a parish to come together as a community and reflect on what it means to live out our Gospel call to go out and encounter those most in need. So don't forget to pick up a Rice Bowl for yourself and your family from one of the church entrances.
When you have completed this journey, the Rice Bowls may be returned to the Parish Center on Easter Sunday, April 1.  If you are donating by check, please make it payable to St. Stanislaus Church so we can gather all donations together to send to CRS.  And thank you for supporting this program.
---
The Bereavement Ministry of St. Stanislaus and Mary, Mother of the Redeemer Parishes 
Denial helps us to pace our feelings of grief. There is a grace in denial. It is nature's way of letting in only as much as we can handle. (Elisabeth Kubler-Ross) 
Join us for our next Bereavement Support Group meeting on Thursday, March 8, 2018, when we will discuss the normal feelings of denial, bargaining and guilt.  There will be a morning session at Mary Mother of the Redeemer from 10:00 to 11:30 am in the Parish Conference room and an evening session at St. Stanislaus from 7:00 to 8:30 pm in the Parish Center.  No registration is necessary, just come if you can. Any questions or for more information call Mary at 215-646-4192.
March 8, 2018: Feelings of Denial, Bargaining, and Guilt
April 12, 2018: Feelings of Anger and Depression
May 17*, 2018: Connecting with God through Grief
June 14, 2018: The Many Faces of Loss
July 12, 2018:  The Value of Memories
*Note: This is the 3rd Thursday since May 10th is the Feast of the Ascension of Our Lord.